In mid-March, staff from The Lady Gamer went from chilly Chicagoland to sunny 1 Las Vegas, Nevada for the Game Manufacturers Association Trade Show (GTS). We went for a few reasons, but the biggest one was to see the upcoming products from the large game companies, and to see some of the new comers into the gaming industry. GTS is traditionally the venue where companies will premier their products for the coming year, and announce any large publishing contracts. This year was no different from years past. Some amazing announcements and great product were on hand, with many samples handed out to review. For our daily reports from GTS, take a look at Pyramid Online (membership required).
GAMA is the hobby and adventure gaming industries main organization. GAMA organizes the Origins Game Expo in Columbus, Ohio. Besides Origins, GAMA also promotes education in gaming, and high standards in the hobby and adventure gaming industry. GAMA truly is a great organization which helps retailers, manufacturers, distributors, and gamers expand the hobby of gaming.
GTS is an industry only convention. In order to attend, you must be a member of GAMA, and request access to the show (retailers, manufacturers, distributors, conventions, and press are just a few example of members). At GTS, different manufacturers bring out their products, and try to show the industry and retailers what makes their product so special and different from everything else being produced. A lot of small ingenious products are on display, along with such big name companies as White Wolf, Wizards of the Coast, Nintendo, and Decipher.
Along with the exhibit hall, there are seminars on everything from running a game store, to freelance writing/publishing, to how to run a demo properly. Industry leaders and experts presented success stories, and tips on how to succeed in the gaming industry.
Each day, two meals are sponsored by different companies for distributors, retailers, and press. During the meals, each company has a presentation on whatever topic they desire. Generally announcements for the coming year are presented, where each company is going, and free samples for most of the attendees.
TriKing Games presented a wonderful array of clips from different Hollywood movies as an opener for their new game Anachronism. Along with providing samples to all attendees, TriKing hosted an Anachronism tournament, awarding a trip to Rome to the winner. TriKing also had a drawing for a trip to Athens for all attendees of the dinner. Unfortunately, we didn't win the drawing and weren't able to stay for the tournament. But we did both try the game in the exhibit hall.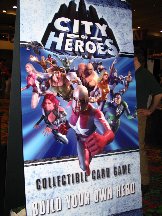 AEG had a few different announcements, including a new edition for Legend of the Five Rings (L5R), and a City of Heroes CCG. Of particular interest was their partnership with Hidden City Games to produce Clout Fantasy, a collectable throwing game. After the announcements and meal, each attendee was presented with samples of different games, and a deluxe collector's edition of City of Heroes MMORPG. (You can find our copy on the page.)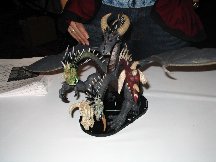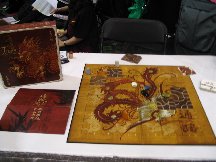 WizKids had some exciting announcements of a new game coming this summer: Rocketmen: Axis of Evil. It looks very promising, and is along the same lines as Pirates of the Spanish Main (PoSM) in build. (Card stock spacecraft like the PoSM ships). Hidden away at their booth, with a brief mention in their catalog, was Tsuro, a non-collectable game that WizKids will be releasing later this year.

Retailers that pre-registered with WizKids on their website as approved venues were given the Apocalypse Dragon and Phoenix figures from the Mage Knight and HeroClix lines. This is a different approach from the other companies' handouts, since it effectively only supports loyal retailers, rather than attracting new ones. On the other hand, it reduces the potential abuse by people who will rush out and sell any speciality items they're given. Jordan Weisman, creator of WizKids Games, joked during his presentation about it, since a couple Apocalypse Dragon figures were already listed on eBay, before anybody had received one!
Some highlights from the exhibit hall included Testors announcing the acquisition of the contract for George R.R. Martin's Game of Thrones miniatures game, both a pre-painted and a 54mm white miniatures line; Fantasy Flight Games production of the World of Warcraft Board Game (finally, instead of being glued to the computer, you might be able to lure the S.O. to the tabletop for a game); West End Games' preview images from Junta; and the upcoming Serenity Role-Playing Game from Margaret Weis Productions.
GTS is interesting in many ways. Not only are the newest, hottest products on display to be looked at, but older games are being reborn, the industry has a chance to show off for each other, and get some business done in a setting of fun and excitement. With such entertainment in the evening as Star Trek: The Experience, Pen & Teller, and tons of other options, the members of the industry gather in one place and enjoy themselves. GTS is the show to attend for the gaming industry. Notable absences as exhibitors were Games Workshop, Dwarven Forge, and Cheapass Games (though James Earnest was spotted wandering the Exhibit Hall).
On the other hand, some companies were noticeably present: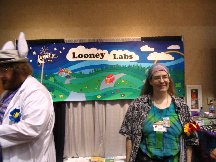 Looney Labs had colorful hippyish display, as usual
Steve Jackson Games featured large posters for their newest games (including SPANC) and handed out Munchkin Dice by the dozen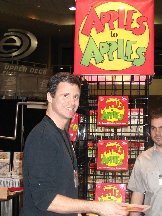 Out of the Box games staff had bright, cheerful smiles
to go with their bright Apples to Apples display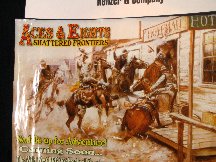 the Kenzer & Co. staff wandered around in cowboy gear to promote Aces & Eights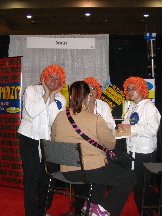 the Gotta Laff Games people wore bright orange wigs all week
The Mountain Corp. had lovely Tree Free Greeting Cards and Tins on display.
All hard to miss, no matter how hard you try. And we weren't trying very hard. Time to start counting down to next year's GTS. Until then, "Live long and prosper."